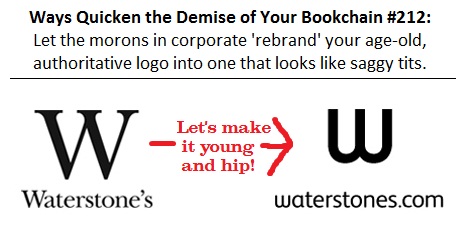 I heard through an inside source long before the actual news hit that Waterstone's, the dying UK bookstore, was being sold for around £65m. That's about £200k for each of its 300-odd stores, which at a guess is probably the average value of the stock in each one.

Turns out it actually sold for much less at £53m to a Russian billionaire.

Way to sink a national chain, guys.

Paper burns pretty well, so to be fair it made sense for the HMV group to sell it before they completely crash and burn. So now they're left with an overpriced CD outlet in a world where nobody wants CDs. Trying to flog overpriced DVDs hasn't helped bolster business either, which is why they now gain most of their revenue selling Kit Kats at the till.

One positive thing is that if you need something, the knowledgeable staff are always able and willing to order it in for you at no extra cost. Hah, only kidding - they don't do that anymore. Instead they tell you to go home and order it from their website... what an excellent way of not just turning away a sale, but sending it to the same competition that's destroying you in price and availability.

ANYWAY.

I worked at Waterstone's about six years ago. At that time, the company decided to piss all over their own chips by firing a long term employee for blogging. In support of the poor dude, I did a bit of sneaking and managed to acquire the email addresses of every manager and staff member in the country - on the day the usual internal newsletter was due to go out, I anonymously mailed this to everyone.

The topical references are no longer topical, some jokes won't be understood if you've never worked in a book store, and it's a PDF. Deal with it.

CLICKY CLICKY